Title
Dust storm, Yushu town
Preview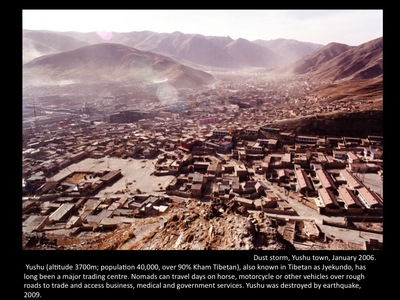 School
School of Communications and Arts
Description
Yushu (altitude 3700m population 40,000, over 90% Kham Tibetan) also known in Tibetan as Jyekundo, has long been a major trading centre. Nomads can travel days on horse, motercycle or other vehicles over rough raods to trade and access business, medical and government services. Yushu was destroyed by earthquake in 2009.
Rights
© Edith Cowan University, and may not be downloaded
This document is currently not available here.
Keywords
Tibet, nomads, Kharnang, duststorm
COinS