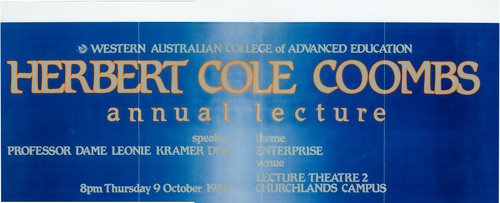 Inaugural H.C. Coombs Lecture - 1986

---

Professor Dame Leonie Kramer's address was titled "The Challenge of Our Past" – a look at the events of the past which provide inspiration for the future. Dame Leonie posed a series of questions of education and enterprise and interposed a series of answers for the gathering to think on and argue.


---
About Professor Dame Leonie Kramer


Professor Dame Leonie Kramer (nee Gibson) was born in 1924, in Melbourne. She attended Presbyterian Ladies College and the University of Melbourne, where she earned a B.A. in 1945 and later attended Oxford University, where she graduated Doctor of Philosophy in 1953.
Dame Leonie was one of Australia's most respected academics and Former Chairman of the Australian Broadcasting Commission from 1982-1983.
She was a Member of the Universities Council and a Director of the Australian and New Zealand Banking Group Limited.
She also held positions as a Member of the Council of the National Roads and Motorists' Association; National President of the Australia-Britain Society; Member of the Board of the Western Mining Corporation and Member of Council of the Australian National University.
She was a Fellow of the Australian Academy of the Humanities; a Fellow of the Australian College of Education; Vice-President of the Australian Council for Educational Standards and Editorial Adviser to Quadrant, Poetry Australia and Australian Literary Studies.
Dame Leonie was awarded the Order of the British Empire in 1976 and created a Dame of the British Empire in 1983. In 1993 she was appointed a Companion of the Order of Australia, at the time, the highest civilian award in the Australian honours system for "service to Australian literature, to education and to the community
Kramer was deputy chancellor of the University of Sydney from 1989–91 and chancellor from 1991–2001, becoming the first woman to hold the position.
She passed away on 20 April 2016.
---
The Australian Women's Register. (2020, November). Kramer, Leonie Judith (1924 - 2016). https://www.womenaustralia.info/biogs/IMP0037b.htm
Kramer, L. (1986, October 9). The Challenge of The Past [Conference Presentation]. Herbert Cole Coombs Annual Lecture, Churchlands, WA, Australia.
---
Leonie Kramer - The Challenge of the Past
Loading the player...