Title
Wind horses, Kharnang
Preview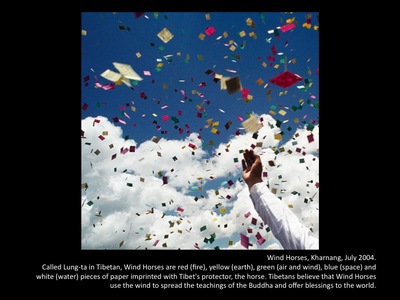 School
School of Communications and Arts
Description
Called Lung-ta in Tibetan, Wind Horses are red (fire), yellow (eartl), green (air and wind), blue (space) and white (water) pieves of paper imprinted with Tibet's protector, the horse. Tibetans believe that Wind Horses use the wind to spread the teachings of the Buddha and offer blessings to the world.
Rights
© Edith Cowan University, and may not be downloaded
This document is currently not available here.
Keywords
Tibet, Kharnang, Wind Horses
COinS