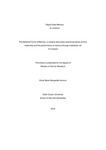 Degree Name
Master of Arts
School
School of Arts and Humanities
First Advisor
Dr Lyndall Adams
Second Advisor
Dr Paul Uhlmann
Files
Download Abstract and Contents page (215 KB)
Download Introduction (158 KB)
Download Section Two: Memory and the Performance of Memory (6.0 MB)
Download Section Three: Framing the Family Archive (2.6 MB)
Download Section Four: New Media Landscapes (176 KB)
Download Methodology (287 KB)
Download Chapter One: Emerging from the Darkroom (111.2 MB)
Download Chapter Two: Investigating the Participatory Engagement with Family Archives in "The substance of memory" (181.8 MB)
Download Chapter Three: Illuminating Family Archive Materiality in Multi-Media Exhibition "Object data memory" (133.2 MB)
Download Conclusion & References (184 KB)
Abstract
This Master of Arts by Research investigates the role of new media in influencing familyarchive materiality and what effect this has on the performance of memory. The aim is to examine through creative arts praxis how installation art illuminates the participatory engagement of family archive materiality to mediate our mnemonic processes. The source materials for this project stem from my family archives dating from the early 1900s to 2013, and include photographs, 35mm slides, VHS tapes, audiotapes and personal items. The significance of this research lies in the creative outcomes that have occurred through the investigative and critical dialogues between artistic practices and theoretical discourses explored through exegetical writing. This hybrid approach to creative arts research allows for the negotiation of dialogues between myself as: researcher, creative practitioner and the subjective experiences that inform my art making practices (Barrett & Bolt, 2007; Gray, 1996).
The installations that comprise this arts-based research reveal the participatory bodily engagement evoked from family archives across a range of media and how the materiality of theses archives influence our memories associated with family. A series of installations emerged, including—video works, photo-media sculptures created from over 3000 35mm slides, projections, new media, photography and audio. This exegesis draws parallels between relevant theoretical discourses, the work of visual artists Tacita Dean and Kutluğ Ataman, and my creative outcomes over the course of this candidature— spanning both studio experimentation and exhibited work. Creative outcomes of this research were exhibited over the course of my candidature, these exhibitions are— Becomings (2014); The Substance of Memory (2015) and the final exhibition Object Data Memory (2015).
A reflexive studio inquiry spanning work-in-progress and exhibitions have fundamentally expounded the creative outcomes of this research. Central to this research is to investigate how new media has influenced the traditional role of the family archive. This exegesis aims to elucidate how a creative arts praxis integrating a multi-method research approach, in conjunction with reflexivity, has manifested a series of interactive and immersive installations that illuminate our bodily engagement with family archive materiality and what affect this has on the performance of memory.
Recommended Citation
Hornum, Emily M. M., "The Material Forms of Memory: A creative arts praxis examining family archive materiality and the performance of memory through installation art" (2016). Theses. 5.
https://ro.ecu.edu.au/theses_ebooks/5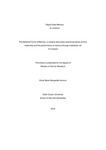 Included in
COinS