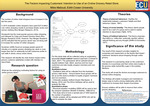 Description
In an effort to increase sales, most major retail companies seek to recruit and reward loyal customers for regular frequent purchases. Companies inspire and reward their loyal customers to enhance repeat purchase and sales opportunities. There are a number of factors influencing the customers' mindset in choosing a specific grocery store, such as loyalty, word of mouth, risks, brand image and brand value. Further analyses of these factors will assist company's customer relationships and marketing strategy development and implementation.
The benefit of developing loyalty among customers is to increase repeat purchase behaviour (Das, 2014; Jarvis & Wilcox, 1977). Customers' satisfaction can increase the rate of customers' repeat of purchase through developing habitual use of the store (Chiu, Hsu, Lai, & Chang, 2010, 2012). In this study, the researcher aims to determine the major factors affecting customers' use of instore grocery versus an online grocery store, and to develop a new model to show this relationship.
This research will enable the retail companies to gain a better understanding of the factors that impact customer' intentions to use the instore grocery channel versus online channel. Furthermore, the researcher will develop a model of the relationships impacting satisfaction, habit, loyalty and the intention to repurchase instore and online. The researcher will also contribute to the literature by providing a greater understanding of the factors which impact the customers' use of grocery stores.
School
School of Business & Law
Disciplines
E-Commerce | Sales and Merchandising
Recommended Citation
Maboud, Mitra, "The factors impacting customers' intention to use of an online grocery retail store" (2017). ECU Posters.
https://ro.ecu.edu.au/ecuposters/18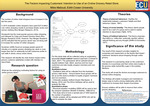 Included in
COinS